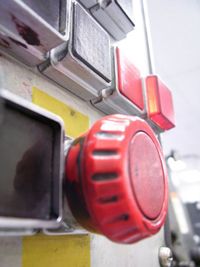 We utilize the most current technology in our industry. Our state-of-the-art equipment allows us to provide our clients with high-quality products on time and on budget
We realize that most people could care less about what model of press or copy machine we use, so long as they receive what they ordered. Still, we can't help being proud of our toys. Once you see how great they make you look, we hope you'll be proud of them, too.
Design
Dual 1.8 GHz PowerPC G5We run all the latest Adobe Software to provide you with the latest and greatest service Design has to offer. Not only do we have the capabilities to manipulate most files, but we have the skills and creativity to produce some of the most complex and imaginative designs in the area

Scitex Dolev 4-Press ImagesetterOffers state-of-the-art screening through Turbo Screening, a technology that enables superb screen quality, faster date rates and smooth dot shapes with a low dot gain.

Umax PowerLook 2000 ScannerThe Umax Powerlook 2000 flatbed scanner has an 8000 element single pass, tri-linear CCD with 1000 dpi optical resolution, 36-bit color depth (more than 68 billion colors and 4,096 shades of gray), CMYK scan mode and is able to scan slides, transparencies and negatives. The Umax Powerlook scanner can be connected to, and networked with, Macintosh or PC.

Xante Accel-a-Writer 3GA powerful tool for clear, crisp black and white outputs, the Xante Accel-a-Writer 3G offers the best in laser output from digital files. It is capable of reproducing not only smooth text but incredibly detailed halftone images with its 1200 dpi resolution. Add automatic duplexing, level 3 PostScript, and the capability for paper sizes up to 12" x 18" and it becomes clear that the 3G will be able to handle even the most complex files and layouts.
Copying
Canon imageRUNNER 600Fast, accurate, and durable, the Canon imageRUNNER 600 is designed to handle most any job that comes to it. Using the latest digital technologies, the imageRUNNER 600 is able to process many different documents virtually simultaneously. It offers 1200x600 dpi resolution (supporting 256 shades of gray), several on-line finishing options (including multi-position stapling, saddle stitch, z-folding, punching, and inserting), a 7,650 sheet paper capacity, and 60 copies per minute speed to ensure that the demands placed on it are handled accurately and quickly.
Printing
Heidelberg QuickmasterPrint quality, range of applications, reliability and simple operation are the criteria that the ideal press must meet to gain a competitive edge. The Heidelberg Quickmaster excels across the board, incorporating features--many unprecedented in its class--such as program-controlled printing, central sheet-size adjustment, monitored sheet control, self-regulated inking and dampening systems, inching and crawl speed modes and automated wash-up devices. With its inherent flexibility, ease of use and numerous automated features, the Heidelberg Quickmaster effortlessly achieves reliable, superior quality.

Toko 4750The Toko 4750 is a 2-color offset press allowing for a 13" x 19" sheet size, 12" x 17-1/2" image, chain delivery, 5 digit preset counter, electronic double sheet detection, electronic impression, precise rotary air valve, center air blower, combination plate clamp, synchronized integrated dampening. Designed to meet the growing demands of quick printers, Toko incorporates the most features that give this Toko press a capability that is unmatched in small press technology.
Finishing
Baum 3-head Paper DrillThe Baum three-hole drill makes it easy to prepare presentations, manuals or reports for use in three-ring binders. This machine makes it possible to drill clean, consistent holes varying from 1/8" to over 1/2" in diameter in virtually any position on a page. The Baum drill can also handle a variety of stock sizes and thicknesses, including as many as 250 sheets at a time.

Baum Folder

The Baum folder is a durable and versatile floor model folding machine, capable of folding paper measuring from 3" x 5" to 20" x 30", at speeds up to 50,000 sheets per hour. This machine boasts six folding options--single, letter, fan, French, double-parallel and double-letter--and can accept all weights of stock up to 140# cover.

Graphic Whizard GW6000When you need high volume multiple and crash numbering with perforating, scoring and slitting in a single pass, the Graphic Whizard GW6000 is the machine you need. The GW6000 offers dependable efficiency that provides your bindery with control of all your Numbering, Perforating, Scoring and Slitting so that your projects are done right and on time.

Polar 66The imagination is not limited to standard sizes and shapes. For that reason, the Polar 66 power-operated cutter is an invaluable tool. With infinite possible adjustments, sturdy guides and a guide light that allows for pinpoint alignment, the Polar 66 can accurately cut business cards, binder spines and covers, bleed trimming and anything demanded of it.